Protein Interaction Network Analysis (PINA) platform is an integrated platform for protein interaction network construction, filtering, analysis, visualization, and management. It integrates protein-protein interaction (PPI) data from public curated databases and builds a complete, non-redundant protein interaction dataset for six model organisms. In particular, it provides a variety of built-in tools to filter and analyze the networks for gaining biological and functional insights into the network.
PINA v2.0 Mining interactome modules.
PINA v3.0 Revealing tumour type-specific insights from PPI networks.
News:
26 Sept. 2020 : The normalization strategy of mRNA expression data was updated to be comparable with other published studies, and the tutorial step-by-step case study was updated accordingly. The Data & Statistics page was redesigned to be more informative.
Usage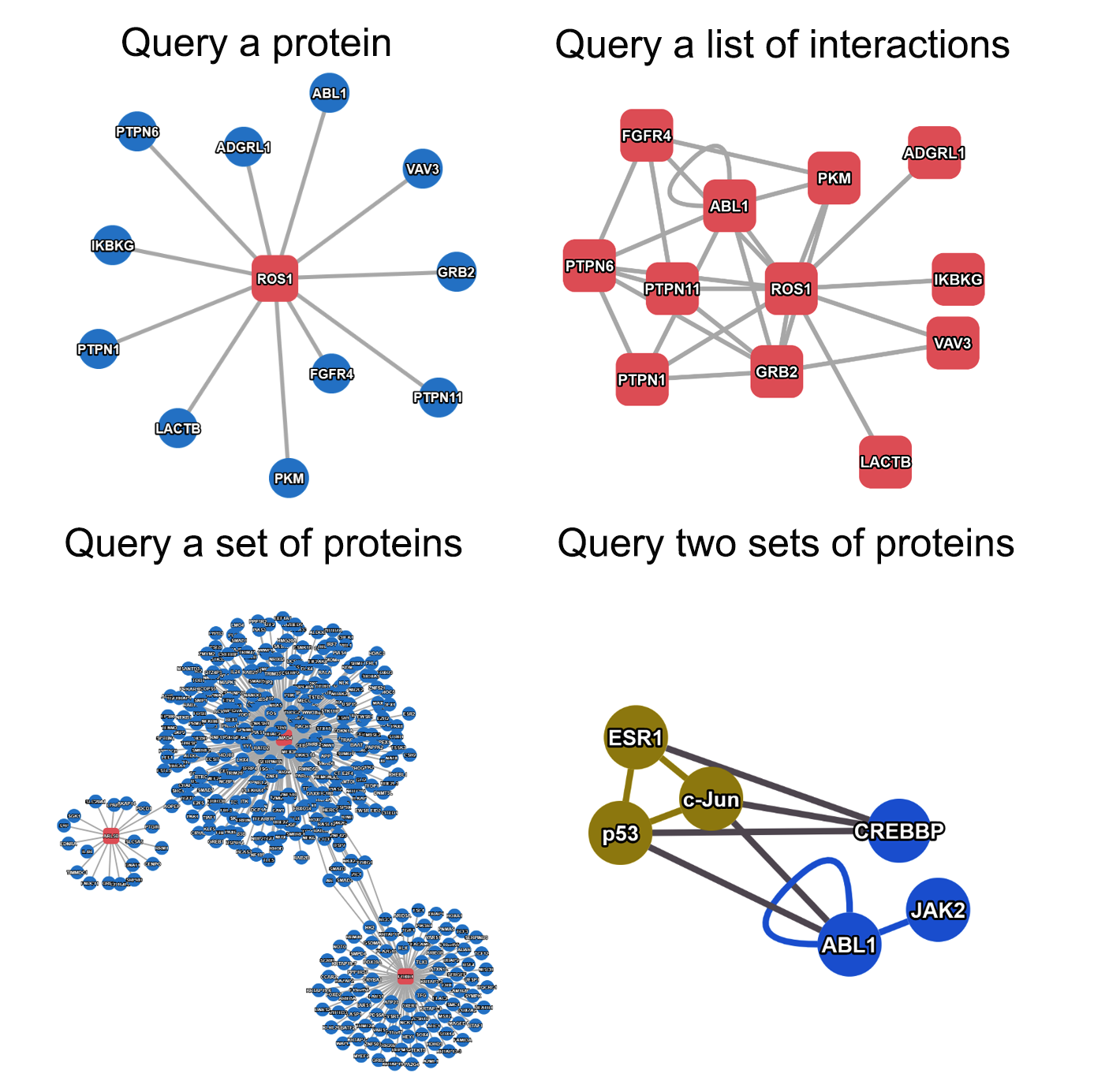 Network construction supports generating a protein-protein interaction network from: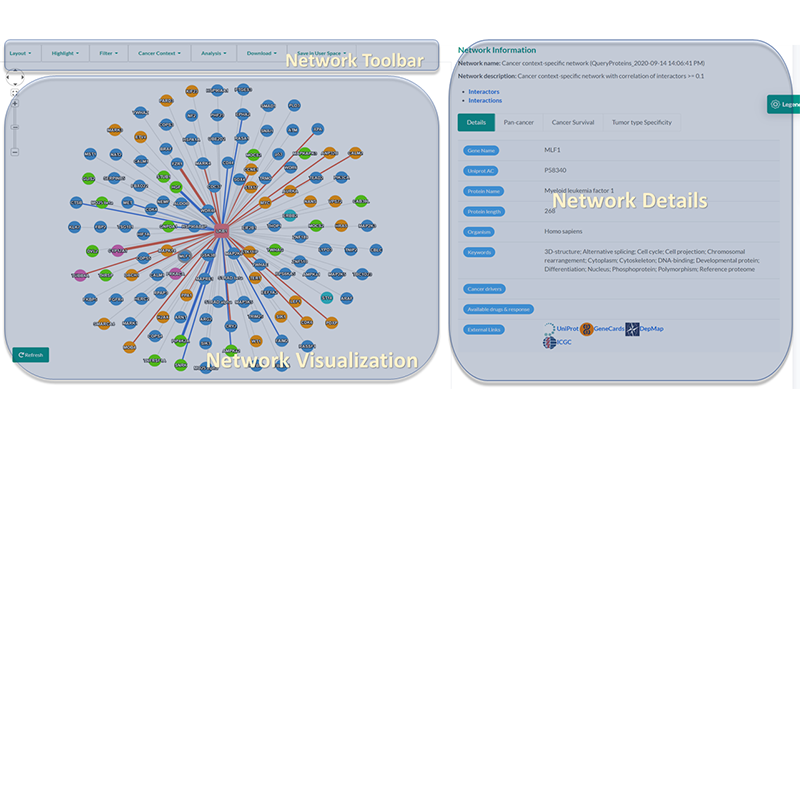 Integrated network viewer is an interactive and multi-functional tool to view, highlight, filter, show cancer context, analyze, and download a PPI network seamlessly.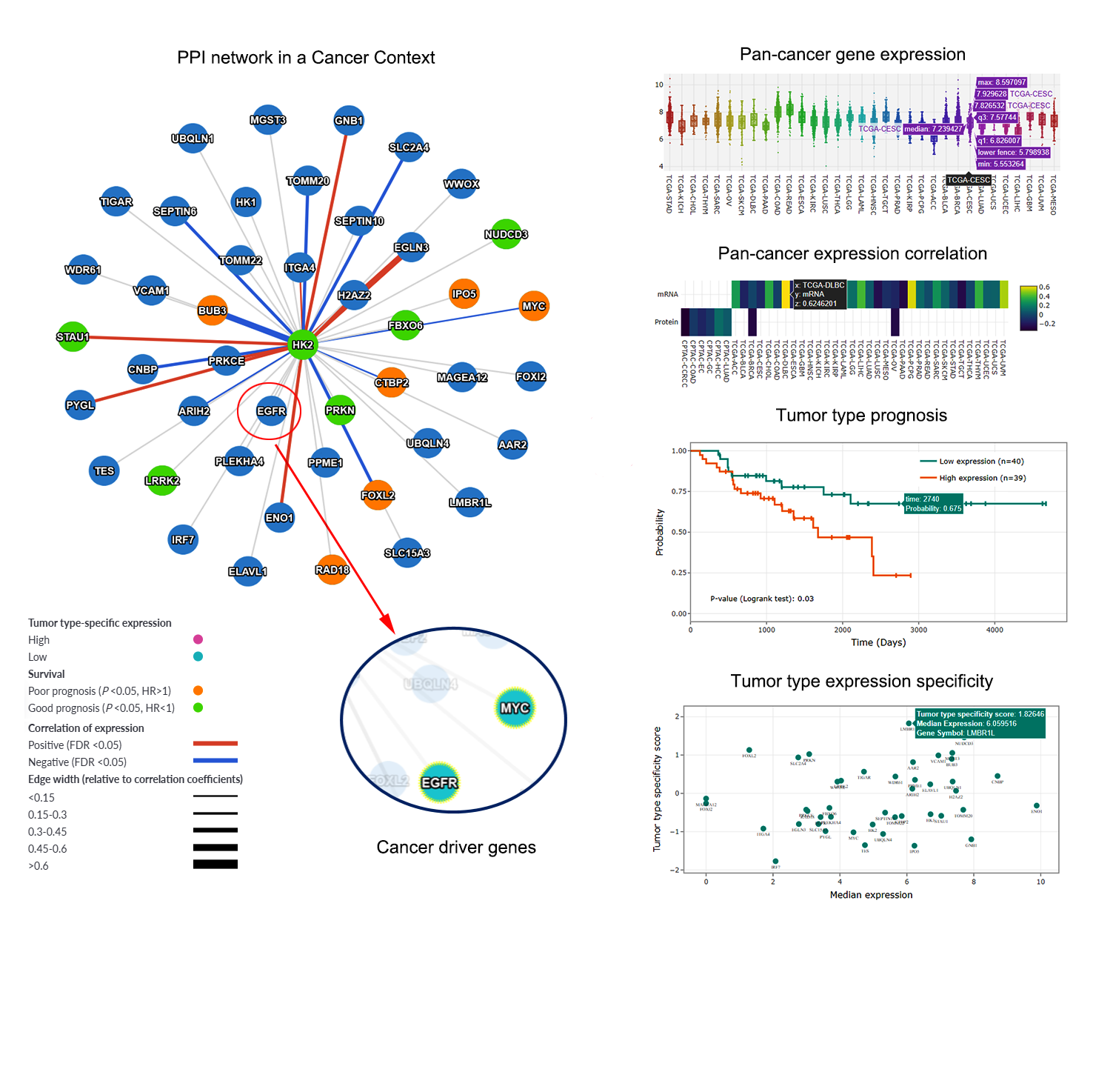 Cancer Context
provides a number of new analysis and visualization utilities by integrating PPI data with TCGA and CPTAC datasets:
to infer network proteins with tumor type expression specificity.
to identify candidate prognosis biomarkers, putative mutational cancer drivers, and therapeutic targets in a network, for a specific cancer type.
to identify pairs of co-expressing interacting proteins across cancer types.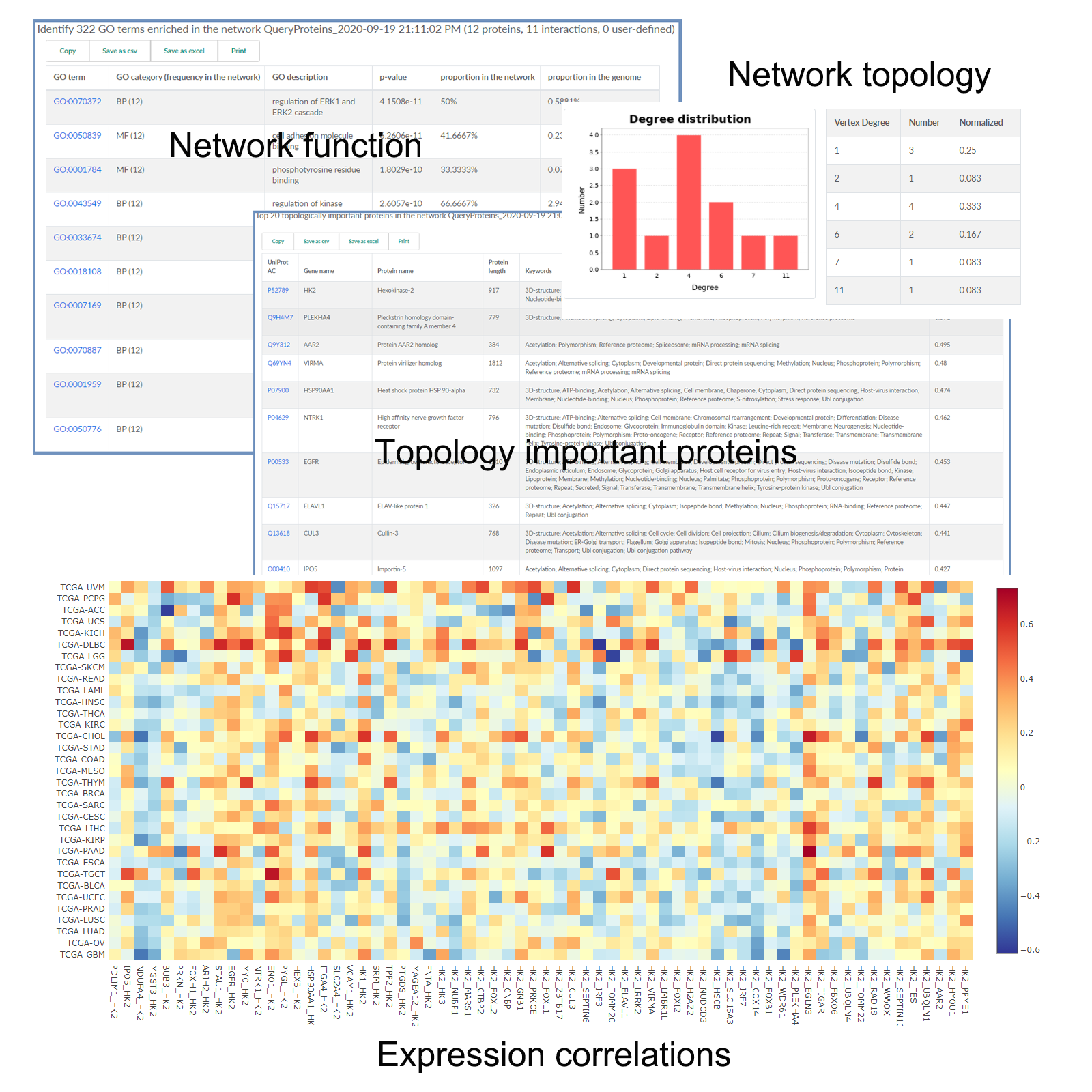 Network analysis includes: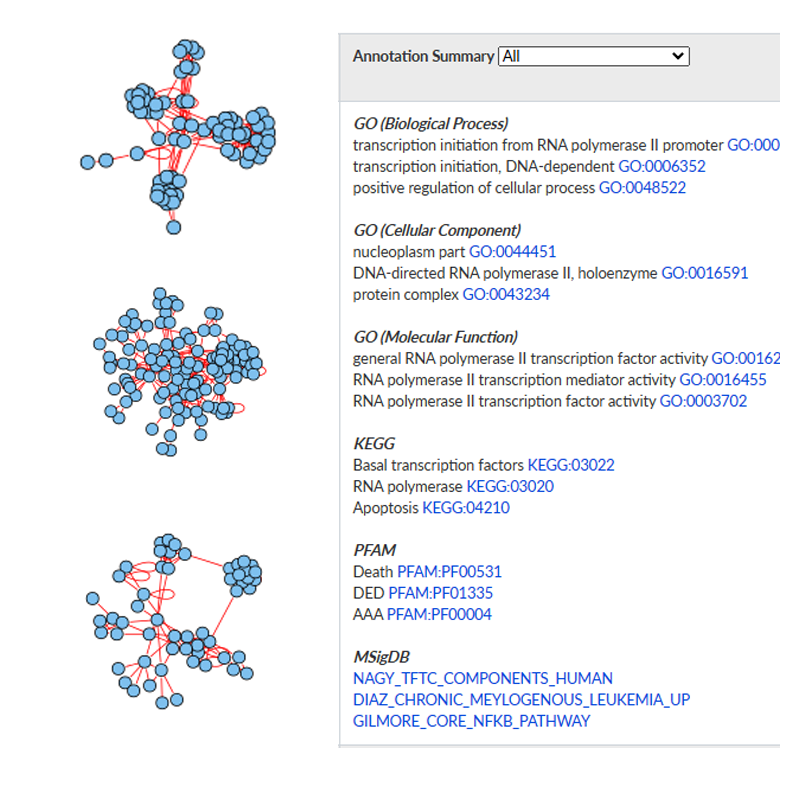 Interactome modules
provide multiple collections of network modules identified from Interactomes by applying several clustering algorithms with different parameter settings.
The identified modules have been comprehensively annotated with known knowledge from Gene Ontology, KEGG pathways, PFAM domains, and MSigDB.
Users can either simply search modules or identify enriched modules from the list of query proteins.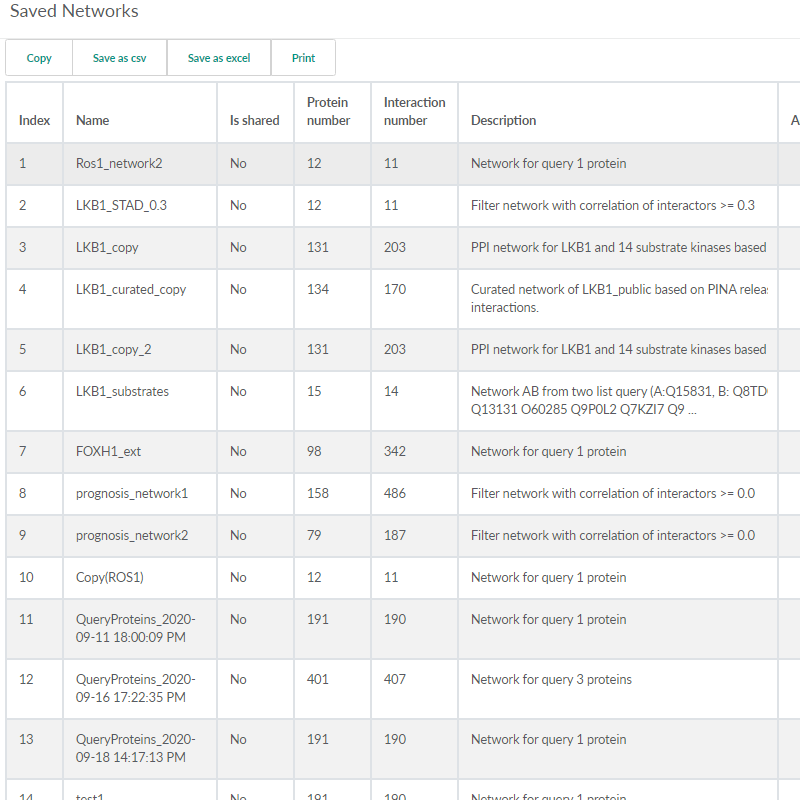 User space allows users to upload/edit interaction networks and to save on the server with account protection. The saved networks can be used as the input of the analysis tools.
Check the online Tutorial for a more detailed explanation of theuser interface and results.
Citing PINA
Du, Y., Cai, M., Xing, X., Ji, J., Yang, E. and Wu, J. (2021) PINA 3.0: mining cancer interactome. Nucleic Acids Res, 49, D1351-D1357. [Full text]
Cowley, M.J., Pinese, M., Kassahn, K.S., Waddell, N., Pearson, J.V., Grimmond, S.M., Biankin, A.V., Hautaniemi, S. and Wu, J. (2012) PINA v2.0: mining interactome modules. Nucleic Acids Res, 40, D862-865. [Full text]
Wu, J., Vallenius, T., Ovaska, K., Westermarck, J., Makela, T.P. and Hautaniemi, S. (2009) Integrated network analysis platform for protein-protein interactions, Nature methods, 6, 75-77. [Abstract]
Acknowledgements